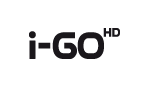 Wilt u op vakantie blijven genieten van Full HD zenders dan is de i-GO HD1 een aanrader.
Xsarius i-GO HD1
De Xsarius i-GO HD1 beschikt over een 12 volts aansluiting waardoor deze digitale satelliet ontvanger ideaal is voor gebruik in uw caravan, camper of boot. De i-GO HD is ook voor thuis een uitstekende ontvanger met sublieme (1080p) beeldkwaliteit. En uitgebreide mogelijkheden.
---
Thuis of op vakantie
Met de Xsarius i-GO HD1 kunt u thuis of tijdens uw vakantie genieten van HDTV op het hoogste niveau. Dankzij de 12 volts aansluiting is deze ontvanger geschikt voor gebruik in uw caravan/ camper of op uw boot.

Foto en video
Ook het afspelen van foto en video bestanden behoren tot de multimedia mogelijkheden van de i-GO HD1.
---
Elektronische programma gids
De ontvanger maakt gebruik van EIT EPG (elektronische programma gids), waardoor u kunt genieten van een programma gids tot wel 7 dagen vooruit.
SD & HD Fastscan
Door de (SD & HD) Fastscan functie is het zoeken naar zenders kinderspel. In circa 3 minuten is de ontvanger geïnstalleerd en gereed voor gebruik. De zenders staan automatisch keurig op volgorde.

PVR-Ready
Tevens beschikt de i-GO HD1 over PVR mogelijkheden. Door het aansluiten van een externe harde schijf veranderd de i-GO HD1 in een volwaardige digitale video recorder. Opnemen, afspelen of pauzeren van uw favoriete zender is nog nooit zo makkelijk geweest.

Infrarood oog
Dankzij de Ext. IR aansluiting is het mogelijk om een extern infra rood oog aan te sluiten. Zo is het mogelijk om de Xsarius i-GO HD1 volledig weg te werken in uw caravan of boot. Extern infrarood oog is los verkrijgbaar.
Veel gestelde vragen

Er is zijn nog geen veel gestelde vragen voor dit product
---
Fatal error: Call to undefined function wp_get_related_links() in /var/www/xsarius.nl/wp-content/themes/xsarius/loop-product.php on line 10